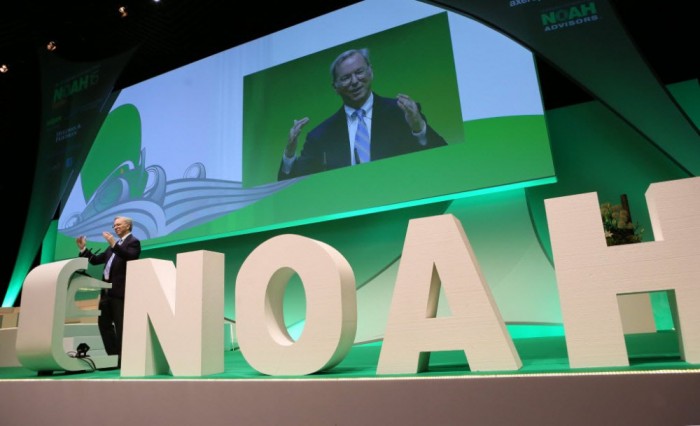 Eric Schmidt, Executive Chairman of Google, speaks during the NOAH Internet Conference in Berlin, Germany, on June 10. (Stephanie Pilick, EPA)
SAN FRANCISCO — Google has come out in favor of Europe creating a single digital market.
At the NOAH tech conference in Berlin, Google's executive chairman Eric Schmidt said the complicated patchwork of local laws and regulations from each of the 28 members of the European Union was "crazy."
The European Union's "digital single market" proposal would create one set of laws and regulations.
"To succeed globally, Europe needs a single digital market," said Schmidt who plays the role of ambassador for Google.
Google is facing antitrust charges in Europe and an investigation into its mobile operating software Android. European regulators have also expressed concerns over data collection and online privacy.
Schmidt said it would help if Europe had a unified digital policy.
"We're getting the messages, but it really helps if they're saying the same things," he said.
Facebook Chief Executive Mark Zuckerberg said last month that his company is in favor of a single digital market.
"Sometimes you're trying to conform to 20 different versions of different kinds of laws," Zuckerberg said during a town hall at Facebook's Menlo Park, Calif., headquarters.
A "digital single market" would "make it easier for companies to offer services, easier for them to comply with the laws because they actually know what the laws are in all these different places," he said.
Europe is looking to give Europeans more options and better access to Internet services such as movie streaming and online shopping no matter where they live.
European businesses want to level the playing field with American technology giants such as Facebook and Google, which dominate the market.
Bottom line, Schmidt said: "There's an old way and a new way; the new way is global and digital, the old way is local and proud, and there's nothing wrong with it, but the old will be displaced."