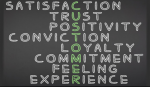 Several customer experience ratings have been carried out over the years, in unravelling the top CX companies. The annual Which report on customer service of 2013, saw a top 10 that comprised of Lush, John Lewis and Waitrose. Amazon was 9th with a customer service score of 79%. The Temkin customer experience ratings of 2014 rated Amazon a joint second with a score of 79%. These are a few reports that indicate a high customer experience rating for Amazon.
A few days ago I sent out an email enquiry via the Amazon seller central and was astonished with the entire customer experience. I garnered insights from this interaction with Amazon that could help most companies aiming to go up the CX ladder.
8 Amazing insights from Amazon's CX
1) Pulling away from the conventional: When I sent an enquiry through to Amazon, I received an auto response that stated: "We answer most emails in less than 12 hours." This is a slight variation from the conventional auto response from most companies. Most companies will state that a reply will be given within 24 or 48 hours. Amazon is among the very few companies that use the unique time-frame of 12 hours.
2) Keep the promise: The auto response stated I will receive an email in less than 12 hours- Amazon fulfilled this promise. The auto-response came through at 22.38 pm and the actual customer support email was delivered by 7:09am. It took approximately 8 hours and 31 minutes to receive a support reply. This is simply a promise kept- a reply that came through in less than 12 hours.
3) Thanking the customer for the enquiry: As companies try to dissuade customer enquiries via email, they are putting more efforts on expanding the frequently asked questions section. Not all companies appreciate or thank the customer for reaching out. After addressing me, the agent thanked me for contacting their seller support department. Thanking the customer will always work magic in the CX journey.
4) Recap the customer's enquiry: Nothing puts off a customer like a blanket email response void of personalisation. Amazon showed they read my email enquiry by recapping my enquiry in the first paragraph of the email. It was not copied and pasted but being rephrased and prefixed with "I understand…." It showed the agent read my question and is reaffirming his understanding of it.
5) Possibility and positivity: This might sound silly to some but customers that send through an enquiry are sometimes triggered by worry. We worry that our order may have been delivered to the wrong address or that our bill may have been wrongly calculated. Worry and anxiety in some of these cases propels customers to send through an enquiry. The second paragraph from the agent was one full of possibilities. It also had a positive tone that will calm any customer's nerve.
6) Keeping it simple stupid (KISS): The agent kept the email as simple as possible. Using simple language and grammar. There was adequate spacing/paragraphing. This email can be understood by virtually anyone.
7) Catering for all learning styles: It is believed that there are three main cognitive learning styles: visual, auditory and Kinaesthetic. The agent provided links to Amazons step-by-step help pages and also to relevant videos. Videos will help visual, auditory and kinaesthetic learners. The varying types of additional support resources are designed to cater for all three learning styles.
8) Full name of customer service agent: Most companies will end their emails with something like: "Many Thanks, the customer support team" or at best the first name of the agent. In this occasion, the Amazon customer agent ended the email with their full name. This gives the customer confidence if there arises a need to reference this email for further query or support escalation.
These are a few insights as to why Amazon excels in her customer experience. In the words of Jerry Gregoire: "The customer experience is the next competitive battle ground." I believe companies will continue to aspire to climb up the CX ladder. Some get the basics and priorities wrong.
I do think one of the basics was poignantly summed up by Damon Richards who said: "You're customers don't care how much you know until they know how much you care." You've got to really care about your customers in a bid to get up the ratings.
Journalist – Dateme Tamuno